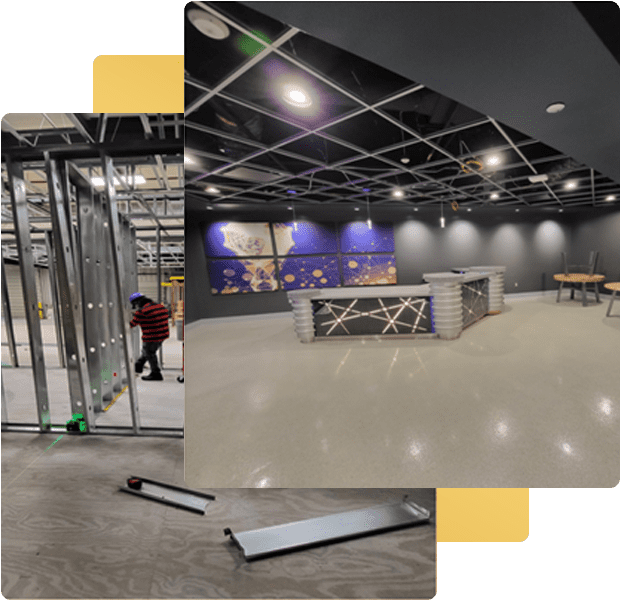 Upstate Interiors is committed to meeting the highest construction standards for our customers by surpassing their expectations and by having a lasting impact in the communities that we serve. Our Mission is accomplished when we have hired, trained, and equipped people to be productive, contributing citizens in their communities, and our customers are completely satisfied.

Framing
We specialize in light gauge metal framing (LGMF) and cold-formed metal framing (CFMF) in commercial buildings.

Drywall
We are experts in drywall, finishing and plastering.

Ceilings
We have a vast knowledge and experience in acoustical ceilings and acoustical wall panel products.
I have to start off by saying I love working for Upstate Interiors. Upstate Interiors pulled me in as family and made me one of their own. This makes it a very comfortable work environment. I am blessed to be a part of the UI family. I wouldn't change it for the world because Upstate Interiors make us feel like family.
Upstate Interiors is a great team of people to work for. They gave me a second chance at life. When I was released, they provided me an opportunity to be successful despite my past situation."
"Upstate Interiors is a great company to work for. They not only promote camaraderie and a family environment they live by it as well by truly caring for their employees. Not only did they hire me and get me into the union they helped me with the initial cost to join. They also loaned me a company van when my vehicle engine blew. That's the kind of people I'm proud to say I work for."
"I found out about Upstate from an ad on Craiglist. I interviewed with Cecil and decided that I wanted to be a part of the company. I came in as a journeyman and have been working at the Frederick Douglass Airport Storage Building, RCSD #17, and at Batavia City Schools. I also have enjoyed the Saturday training classes."
When I began working with Upstate Interiors I immediately felt right at home. The company really does care about its people. In a short period of time, I've been able to sharpen my skills as a carpenter because of the camaraderie that we share. We're a team of talented individuals together for a purpose. I enjoy the experience here at Upstate.
"I have been working for Upstate Interiors since the summer. And even though I was skeptical at first, I was welcomed. I have learned from coworkers such as Omar, Darius, Laron, Dan and Cecil. I'm grateful for Upstate for helping me become a carpenter. The team has helped me grow"
I look forward to coming to work everyday at Upstate Interiors. The management is wise, and friendly. The workers have a brother/sisterhood where we all have each other's backs. It's a great company to work for.
From my personal experience, Upstate Interiors is the best company I've worked for. It's well organized and unselfish. Upstate cares for the needs of our families and is very understanding. What company checks in on a weekly basis on the well being of their employees? Something to ponder on! Love the family environment, love the communication, and most of all, love the opportunities. Respectfully submitted,
When I first learned about Upstate interiors, I walked in unsure if this was it. I'm happy to say I've found a home. It's work but the people make every day worth coming in. Built from the ground up. Everyone here understands what it's like to start with just a structure and finish from the inside out. I love my work family.
Hi, my name is Josue and I truly can say it's amazing to work for them. It is a community where everyone gets along and understands each other and helps one another . They look for ways to treat their employees well. They provided a place for me to stay when I came to Rochester. I love being a part of the team.
Minority Business Enterprise (MBE)

NEW YORK STATE DEPARTMENT OF TRANSPORTATION DISADVANTAGED BUSINESS ENTERPRISE (DBE)